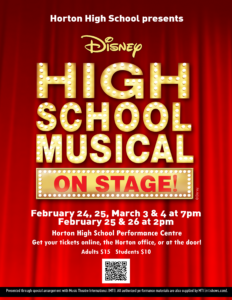 While the past few years have certainly had their ups and downs, performing arts organizations across the world have been rocked by the impacts of the COVID-19 pandemic. Even with all of the uncertainty created by these events, the students at Horton High School are looking forward to bringing live performances back to their theatre. Starting on February 24th, these young performers will step out on stage not as Horton students, but as students from East High in Disney's High School Musical. 
When the cast first started dissecting the script for this show, the music room was filled with giggles and eye rolls, but as they dove further into the text and lyrics, those same students realized just how much of this production they saw playing out day to day, from their classrooms to the cafeteria. High School Musical explores the upheaval caused by two characters, Troy and Gabriella, deviating from the status quo. Following the cliques of East High (the jocks, brainiacs, thespians, and skater kids) might feel all too familiar to many of us who have felt like we couldn't do something, just because it wasn't what others might expect from us. 
Evelyn Swanson-Snook, who plays the character of Ms. Darbus, says that working on the show has been a hugely positive experience. "Portraying a character so different from myself has helped me to be bolder and more confident. Getting to become a part of a community of people who have similar interests has been wonderful." This is a sentiment shared by Allie Burns, who has been itching to get back to doing things she enjoyed doing pre-pandemic. "It's just so great to collaborate as one group of students and just do something we all love with a purpose!" 
Over 400 students from Evangeline Middle School, Hantsport School, and Wolfville School will be coming up to get a bit of behind the scenes action at an open dress rehearsal prior to opening night. A member of the "thespian" clique, Mashayla Conway, says she's "super excited for the people who grew up watching High School Musical to see how we've been bringing it together" and that she "really hopes they enjoy our version of the show and find it nostalgic." We also hope that audience members will appreciate special staff cameo appearances in the role of Coach Bolton!
 Performances will be held at the Horton High School Performance Centre on February 24, 25, March 3, & 4 at 7pm and on February 25 & 26 at 2pm. You can get your tickets by going to our website (https://sites.google.com/gnspes.ca/horton-music/), stopping by the main office at Horton, or at the door. 
We can't wait to see you there – Go Wildcats!