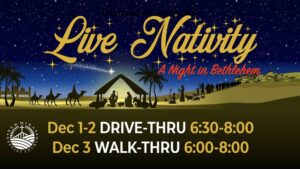 2022 Live Nativity at New Minas Baptist Church
www.livenativity.ca
9453 Commercial St., New Minas
office@nmbc.ca or 902-681-7683
Come and experience a Night in Bethlehem at New Minas Baptist Church. At the Live Nativity, you can make a Food Bank donation that will get you, past Roman soldiers and tax collectors. Meet villagers, shepherds, and innkeepers who will direct you to the angelic choir. Capture the wonder of Mary, Joseph, and the real star of Christmas, baby Jesus.
Thursday & Friday, December 1-2, from 6:30-8:00 pm, will be a Drive-Thru experience and Saturday, December 3, from 6:00-8:00 pm, will be a Walk-Thru experience. We are looking forward to celebrating Christmas with you! Over 200 volunteers serve as cast members and behind-the-scenes crew. We are excited about what 2022 has in store! Mark these dates on your calendar for this Valley-wide Christmas celebration!